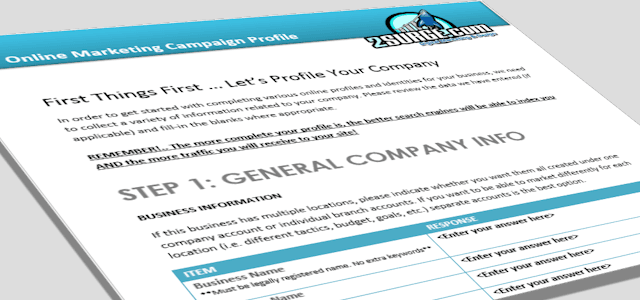 No matter what your industry or niche, you MUST compile a profile for your business in order to complete subsequent steps of the Local Search Optimization campaign. When working with our clients, the local search profile we utilize includes:
General Business Information – Including Business & Alternate Name and Contact Details
Name/Address/Phone Number (NAP) – This is the ALL IMPORTANT NAP which MUST be consistent in EVERY listing & citation created for your company. I can't reiterate that it must be EXACTLY the same everywhere it appears. Don't even spell out words like Suite in one listing and then abbreviate it to Ste. in another….this is a major No No.
Business Descriptions – Including Long descriptions (approx. 1,500 characters), Medium descriptions (approx. 350 characters), and Short descriptions (approx. 100 characters)
Products and/or Services – Some of the larger directory sites require listings of your products and services. Anywhere it is allowed, you should ALWAYS take advantage of the opportunity to list your offerings in details (including photos, videos, etc.)
Services-Based Business Details – Including items like: Areas served, Distance willing to travel, Brands, Warranties, Licenses, Insurance, etc.
Social Media Accounts – List all that you are active on and have a solid profile / presence.
List of Existing Citations – List all citations you are aware of and the associated login account & credentials
Promotions, Offers, & Discounts – These items are EXTREMELY important to note as they can drive significant click-throughs on your listings. EVERYONE loves getting something discounted and even FREE. We can also utilize these items in the future on any Paid Search campaigns in order to build-out the Highly Targeted Landing Page for your offer and associated CTA (Call-To-Action).
Photos, Videos, & Images – Since we are ALL a society of people with short attention spans, we all would much rather look at images & watch videos rather than read subject matter of which we are interested. These media asses will help to give your online profiles diversity and character in telling your company's story.
Business Categorization – When creating Local Search Directory Listings for your company, it's crucial that we categorize your business properly so that you will show up only in listings and searches relevant to your industry or niche. Most businesses are easy to categorize generally, however some are more specific and we implement Category Overrides to get even more granular with regards to the listings.
Hours, Award, Payments, & Misc – These items round out completion of a thorough Online Marketing Profile
The PRIMARY reason why you want to collect and log this detailed information prior to starting your campaign is that you will come back to and reference this document Many, Many times. Whether its creating Directory Citations, updating Forum Accounts, or creating Social Media Profiles… being consistent with your information is key and critical to the overall success of Local Search Marketing.