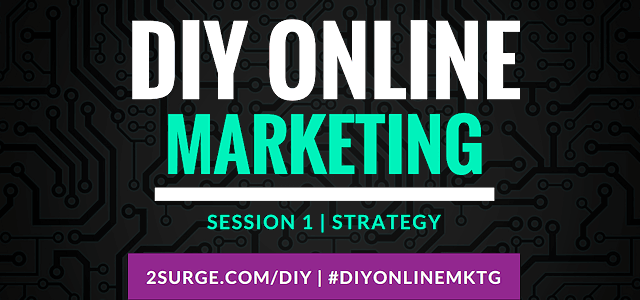 Welcome to the Do-It-Yourself (or DIY) Online Marketing Course. This is Session 1, and it starts at the very beginning, which is creating an Online Marketing Strategy. The goal here is to empower to you to run a business effectively online by starting with a comprehensive strategy. We will move through all of the basics of setting up your site, putting great content together, attracting new prospects and leads, closing sales, and then ultimately nurturing your customers along the way.
>>RESOURCE: One-Page Online Marketing Strategy (PDF Format)
Our World Has Changed
With this course we want to force you to think DIFFERENTLY. Think differently about your MARKETING, how to run your business, how to ATTAIN and KEEP CUSTOMERS. The reason we want you to think differently is the fact that in recent years, the world has changed. This image shows 2 different pope inaugurations celebrations-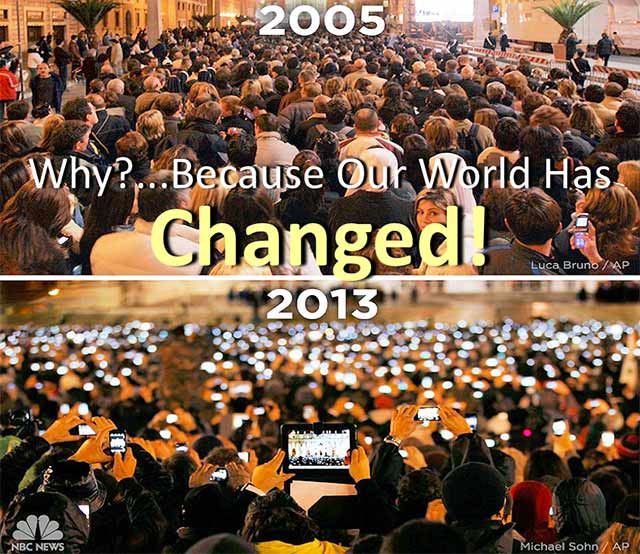 You can see the stark difference that consumers across the Globe are now empowered with a mobile device in which they communicate, seek entertainment, buy things, and seek information with. Knowing that our consumers are empowered with these devices, we now have to market our services a little differently to get in front of them.
The problem that most everyone I work with has is, every day and every year that goes by, STRATEGIES and TACTICS for getting yourself found continue to change. It's very hard to keep up with everything going on, if you're not in the business. People need to educate themselves on why they're website is invisible, or why they're not getting enough traffic and hits. In this course, we will to educate you to the latest techniques and strategies so your website can be found, and you can get in front of your prospects.
Customers Now COMPLETELY Control The Buying Cycle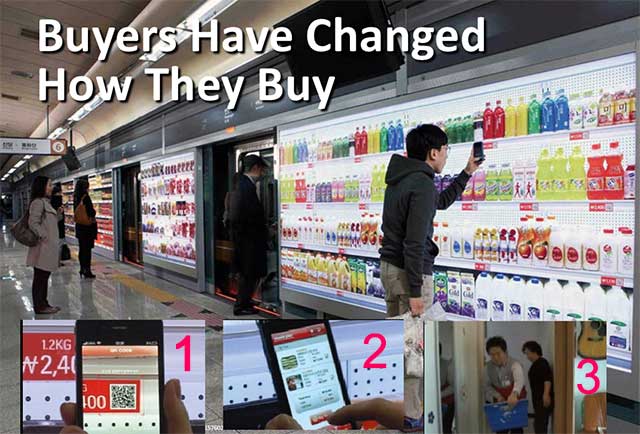 Buyers have changed how they buy. This is a subway in South Korea, and it's not actually a grocery store, which it looks like at first glance. It's the side of a subway. When people in South Korea are about to board a subway, they can capture an image from a 2- dimensional photo of what looks like a grocery store shelf. How it works is that the buyer first takes a picture of the QR code with their smart phone, then they add their products to their shopping cart, and when they are done they order the groceries. When the customer gets home, they have their groceries which have been delivered to their apartment.
The reason that buyers have changed the way that they buy is because they seek CONVENIENCE. They seek a way to get things done QUICKLY within their lives, and to automate things that we used to take for granted, such as going to the grocery store. Knowing this we need to look at the way that we used to do marketing.
The OLD Way of Marketing Through Interruptions
Traditional marketing was INTERRUPTION. It was noise, it was in our face, and it was basically TV commercials, print advertising on billboards. You couldn't turn on the radio without hearing commercials. Even today these techniques are still in play and have a place in marketing. However, they're not as effective, and growing less effective as time goes by. How many people used to, or still do, get telemarketing calls? With all of these interruptions we have become good at blocking them out.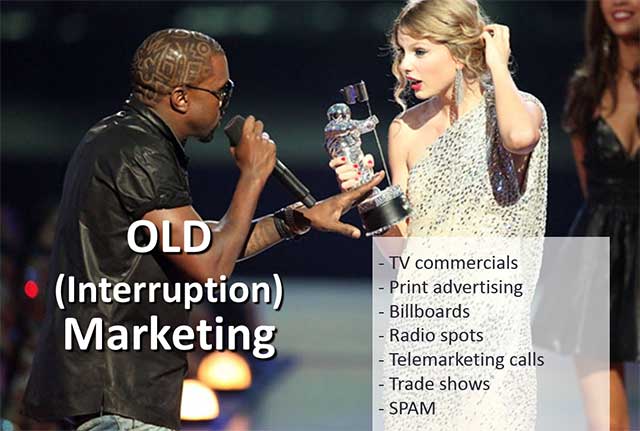 We implemented do-not-call lists to say "Hey, I don't want to get bombarded by people soliciting me". We implemented Caller ID to block calls we don't know. If you don't recognize a number on a telephone, you usually won't pick it up, right? DVR's skip commercials, spam email filters block out all the junk marketing. And most of us never even open the junk mail that comes to our house any more. So we have become, as consumers, good at blocking out all of these traditional ways of marketing.
The NEW Way of Marketing by Asking PERMISSION
So having known that, we've advanced how we handle marketing, into what is now called permission marketing. Since the consumer is at the helm of buying on their own time, and seeking out information, they're looking for us when they need us. They're preforming Google search, or educating themselves through products and services through YouTube. They might read blogs on subject matter experts that are showcasing how they know what they do, or maybe they'll download an e-book or whitepaper. They'll even take webinars online. Of course, pdf brochures, and email marketing are just as effective as they were even 2 or 3 years ago.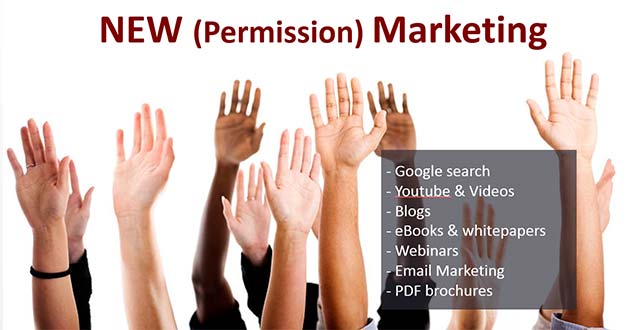 And the reason is that if you TIME these things to reach people who have indicated interest in your product, you are much more effective at getting a LEAD and possibly closing a SALE. In a book called the Invisible Sale, by Tom Martin, he even points out the fact that customers are researching you and your products even when you don't know it.
In fact 80% to 90% of people who call you have ALREADY looked at your website, and have already researched not only your products and services, but the products and services of your competitors. So by the time that they do reach out to you through phone call or email, they are actually just wanting to close the deal. They've already done all the research up front so what your doing is just helping a buyer make a buying decision at that point.
Your Sales-to-Marketing Staff Ratio Should Now Be Flip-Flopped
Look at the chart below, on the left is the traditional mix of sales and marketing as it was in the past. The majority of sales and marketing groups were made up of primarily SALES people, because we didn't have the technology at the time. How else would we make sales? We just had to go out and do door-to-door, or cold call, or hire sales people who had relationships already existing with some prospects. So we top loaded our sales department with traditional sales people. With marketing we had a small personal of people who would put together pretty brochures, and things that would aid the sales people.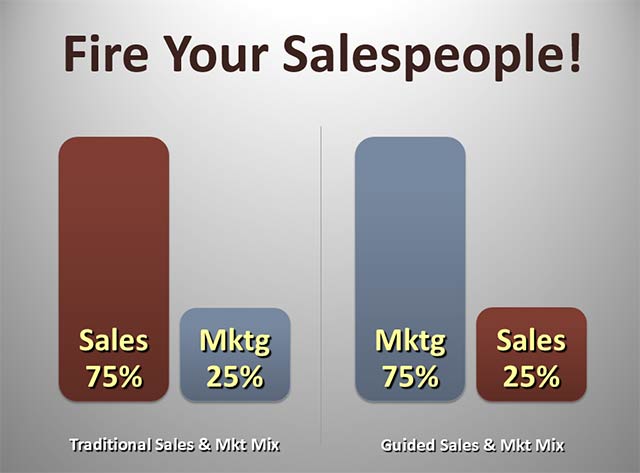 Now a days we have switched these groups completely. Knowing that people are searching ONLINE for our services and products; and that they're looking at our competitors site. Or that they're attending online webinars about the services or products that we sell. We want to top load our marketing group, then just have a small group of sales people to help close the deal.
So this new marketing group is going to put together awesome content, they're going to write great blog posts and start designing really elaborate infographics to help with the customers that are just trying to determine if you are even a viable option for what they're seeking to buy.
So where does all of that start?
It starts right here, with STRATEGY.
In the notes you can download the One Page Online Marketing Strategy.
At this point I would recommend opening or printing out the One Page Online Marketing Strategy. It defines the six areas we will be focusing on for the rest of this session.
Section 1 of the Online Marketing Strategy will focus in on defining our goals and objectives. The second section will cover how much we should INVEST in Online Marketing. Then in the third were going to identify your ideal TARGET CUSTOMER. And in the fourth were going to preform keyword and COMPETITIVE ANALYSIS so we know where our competitors have learned what is and is not working. And in section 5 we will identify the very best marketing channels which you should be in. And finally, were going to talk about tools to help you measure the effectiveness of what we are doing, because not everything works, and sometimes we have to test things in order to find out what actually does work.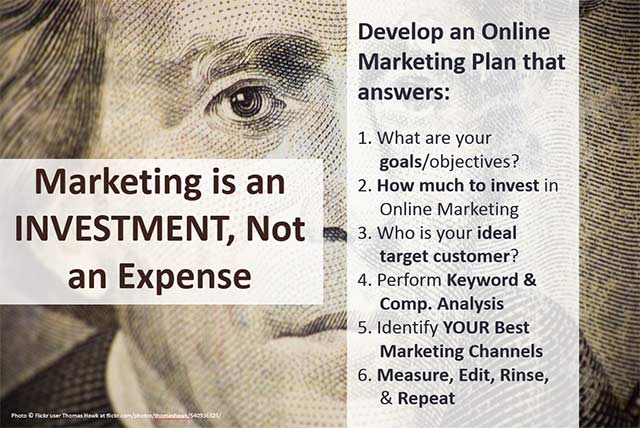 On the image above is a pretty bold statement, that "Marketing is an investment, not an expense". It's important to realize going forward that by investing in marketing you will help your business grow, and not die on the vine. So just keep that in the back of your mind.
So let's talk about section 1, which is identifying the GOALS and OBJECTIVES for online marketing. Many clients have the common objectives of just increasing sales and getting more business, which is a very common and a valid objective. But there are other things that we might want to look at. In addition to getting sales, you might want to drive brand recognition, or lead generation so that you can move towards the next step of closing a sale. In some cases you want to preform customer service, maybe your trying to launch a new product or promotion through online marketing. You may be trying to seek press exposure, or to announce something that you've done recently. Also it's very valid just to monitor for negative sentiment and that's something to keep in the back of your mind.
If we look at the Online Marketing Strategy that we have, there are other personal objectives like establishing yourself as an authority in your field. Or trying to land a job or get a promotion at a job. Maybe you're trying to build a community around a cause or raise money for a cause. All these are valid objectives. The thing is to keep it simple. Choose 2 from the list and move forward.
How Much SHOULD You Invest in Online Marketing?
The second area of the Online Marketing Strategy is looking into the budget you're spending. "How much should you invest in your marketing?" Is a common question we get all the time at 2Surge Marketing. A safe range for businesses that are less than 5 million in revenue is 7%-9% of your gross annual revenue to your marketing in general. This is established by the Small business Administration and the Texas State Small Business Development Center small businesses. That is assuming that you have a profit in the range of 10%-12% so that you do have something left over for profit. If you're in that area, then you're pretty safe in accomplishing the same invest goals as the majority of other businesses in your range. This also insures that you're providing for healthy growth in your company. So again, assuming you're less than 5 million in revenue, that you have a profit range of about 10-12%, you should invest around 7%-9% for marketing.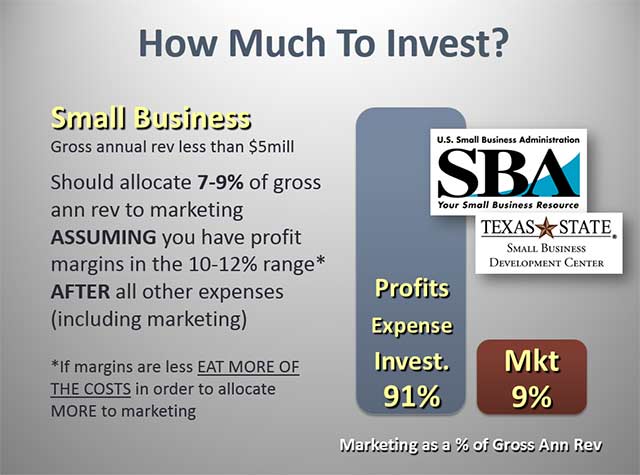 Know Your Target Audience (Better Than They Know Themselves)
Our third area that we want to look at is identifying your target audience. The image below from Duluth Trading. They are in the business of creating work clothes for men. They even brand and name their products in a funny way that appeal to their target audience, like the Plumbers Butt Fixed shirt, the Buck Naked Underwear, and the Fire Hose Work Pants. Is there any doubt who their target customer is? There is not; they target guys who are active, who are out and working in the field, or yard and who want to be comfortable in durable clothing.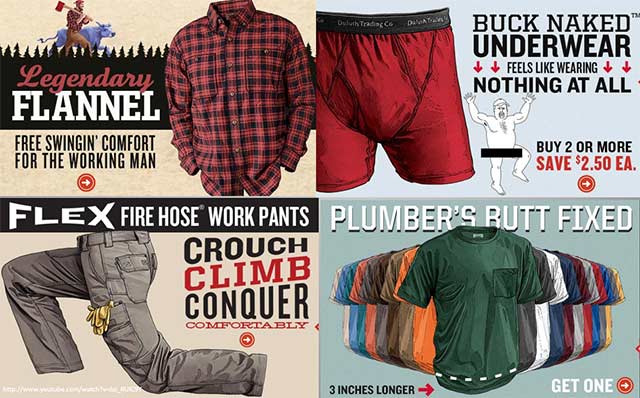 Your challenge in section 3 is to do the very same thing. Identify YOUR target customer. In the next video were going to showcase some tools you can use to get more demographically, and geological targeting.