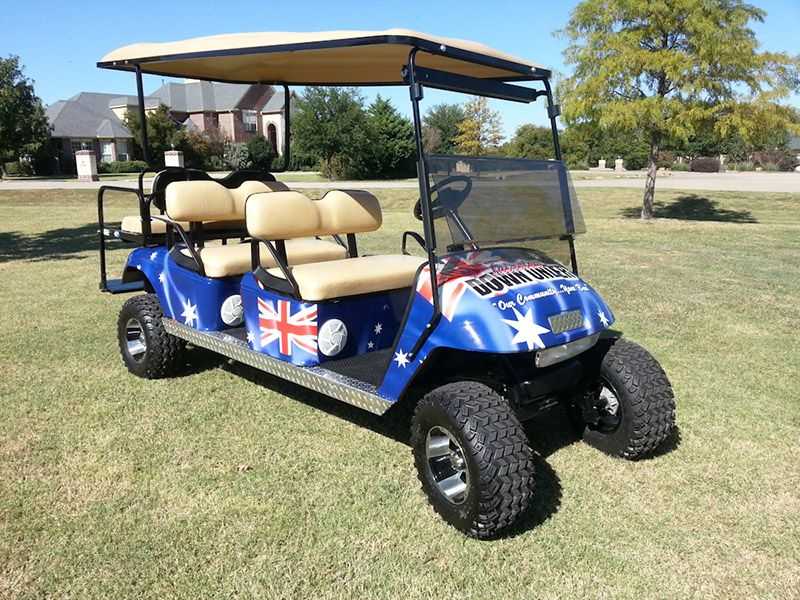 OVERVIEW & GOALS
Down Under Pub (an Australian-themed concept restaurant and bar in Allen, Texas) wanted to increase exposure of their newly opened location by utilizing a branded golf cart to park in front of the location as well as pickup patrons in the parking lot.

By leveraging the custom golf cart in a high traffic area, the owner's goal was to increase patrons and foot traffic as well as maximize brand impressions by wrapping the cart in an Australian flag.
THE PROJECT OUTCOME
2Surge Marketing provided the owners of the Down Under Pub (located in Allen, Tx) with several mock-ups (see below) in order to get a final design concept that could go to print. Material used was a sun-resistant custom vinyl material that would also resist fading and weathering. By overseeing and managing the product, 2Surge was able to 1) approve the print, 2) monitor the vinyl installation, as well as 3) provide project quality control.

The Printing & Marketing project for Allen-based Down Under Pub produced a centerpiece of its visual appeal to patrons that visit The Village at Allen shopping center in which the restaurant resides. The Australian-themed reinforces the restaurant brand each time potential customers see it carrying customers to and from the parking lot. On busy weekends with important sporting events like local Allen High School Football, Basketball, and Volleyball games, the cart is parked up-front to again provide countless branded impressions on passers by.
Allen Printing & Marketing – Restaurant Branding
(click the image(s) below to see a larger version)
---