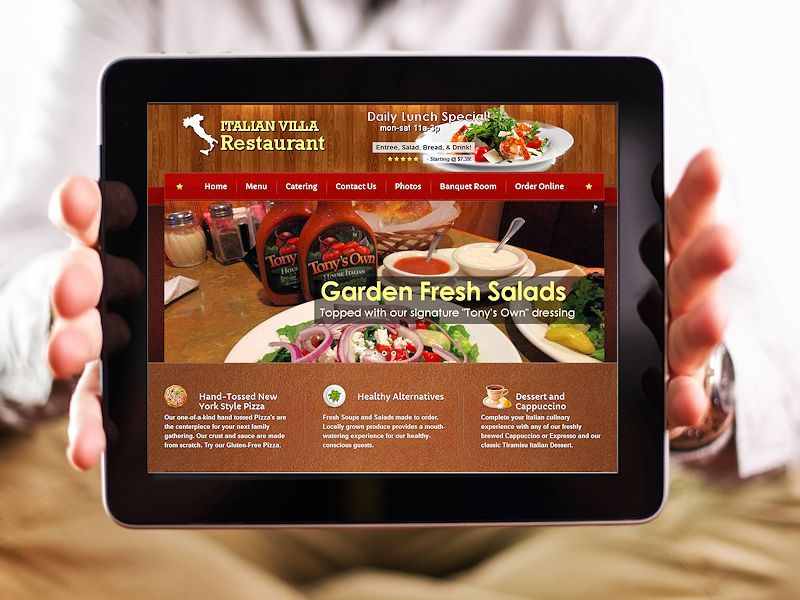 OVERVIEW & GOALS
The Italian Villa Restaurant wanted to implement a complete website redesign and makeover in order to drive more traffic to its restaurant. With the recent print redesign and implementation of a new menu and logo makeover, the Italian restaurant website redesign would compliment their new marketing push.

Another goal of the Allen, Tx based restaurant's new website design was to ensure the site is 100% mobile responsive and looks great on ALL devices like desktop, tablets, & smartphones.
THE PROJECT OUTCOME
Utilizing some of the content from the original site, the 2Surge copywriters began the project by  redesigning the textural content and a compiling a collective mix of photos both from the restaurant itself and professionally captured royalty-free images. The next step of the project was to identify the most efficient page layout and menu hierarchy levels in order to give visitors an easy path in order to navigate the site.
A centerpiece of the project was implementation of the NEW online menu layout which would reflect newly added menu items, food and dish descriptions, as well as new meal pricing. The Italian Restaurant website design team chose implementation of dynamically built tables to store each dish and food item in a visually attractive style. Since the entire mobile responsive website was built on the WordPress content management platform, maintenance of the menu items is EASILY accomplished by the client without assistance from a web designer.
Phase 2 of the new Italian restaurant web design project was a thorough On-site Search Engine Optimization (SEO) which covered the most essential optimization techniques. The primary elements configured were: setting of page title tags, description tags, keyword research and implementation into copy, setting page level indexing, configuration of Google Webmaster Tools, implementation of Google Analytics, and creation of optimal robots.txt and sitemap.xml files.
Click To Visit Italian Villa Allen Restaurant
Web Design Allen, Tx – Italian Restaurant
(click the image(s) below to see a larger version)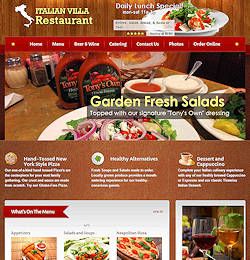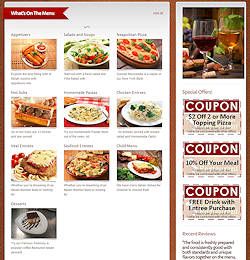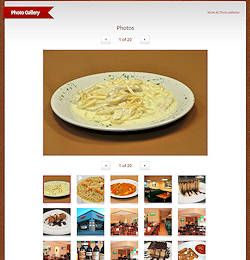 ---