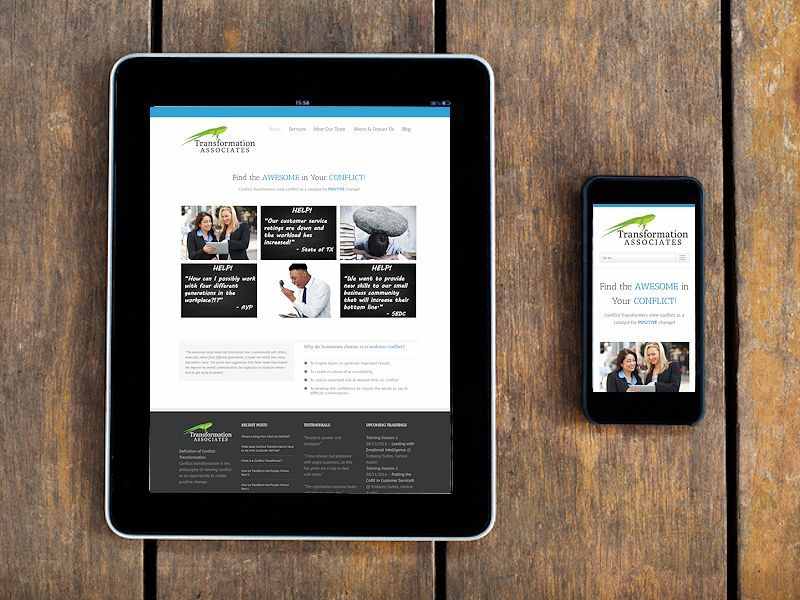 OVERVIEW & GOALS
Transformation Associates is a small business that specializes in conflict resolution within the workplace. In order to grow their business and take it to the next level, they wanted to redesign and brand a new website that spoke EXACTLY to their core competencies.

Since the project was a Small Business Website Redesign, they company had a limited budget and wanted to ensure any future updates of the site (both text and images) could easily be accomplished on their own.
THE OUTCOME
Transformation Associates worked closely with their 2Surge Project Manager to comprise the text, imagery, and layout of each page within the site BEFORE selecting a design style and theme. By utilizing this approach, the client is able to quickly attack the single most hardest part of such a project – context within the site. So many small businesses struggle with this while redesigning their website. By NOT limiting yourself on a set style, the client found themselves free to compile the exact wording and visual mix that worked on each page.
As the Small Business Website Redesign Project moved from the contextual phase and into graphical design and page layout phase, both Transformation Associates and 2Surge collaborated on what would be the simplest, most efficient presentation of information while keeping true to their new branding and identity. The resulting website redesign is a simple-yet-effective, mobile responsive website that conveys each of the Value Propositions offered by this unique company.
Just before the final launch of the site, the 2Surge technical team ensured that each of the following items were in place and active in order to set the stage for any future online marketing efforts:
Updated all core components of the Content Management System (CMS)

Checked for broken links

Checked for content misspellings

Created an XML sitemap to allow search engines to easily index the website's pages

Configured Google Analytics to track visitor patterns and frequency

Optimized the page load time for Maximum speed

Configured a robots.txt file in the site which SPECIFICALLY tells search engines which files and folder they can & cannot index
Set rerouting www.transformationllc.com to transformationllc.com (non-www) in compliance with Google best practices

Set optimal folder and file security permissions settings to help prevent malware, viruses, and intrusions into the site
Click Here To Visit The Site - Small Business Consulting Website Redesign
---