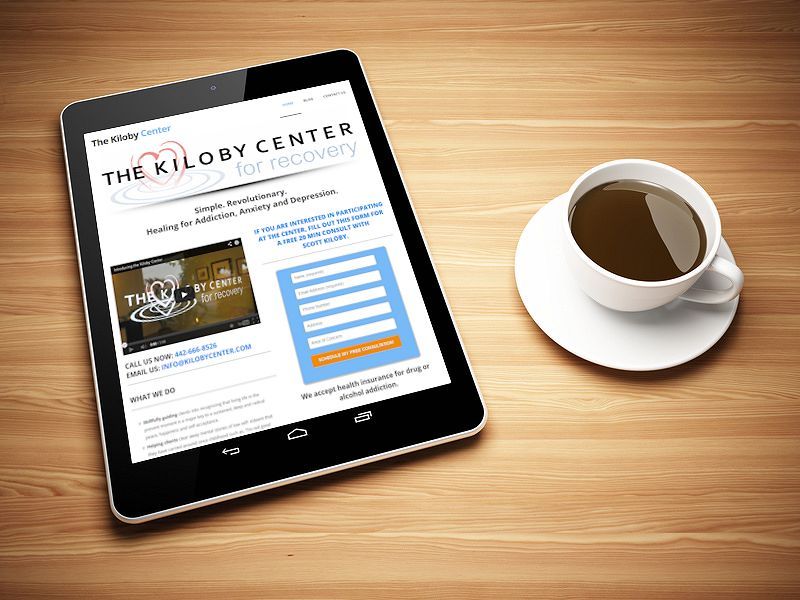 OVERVIEW & GOALS
The Kiloby Center Addiction Treatment Center (located in Palm Springs, CA) wanted to promote the inaugural opening of the center with online marketing & promotions. To support this endeavor, they would need a Targeted Landing Page with a strong Call-To-Action (CTA).

The goal of this project was to utilize a Landing Page to easily tell prospects what the center is about and aggressively build an email marketing list.
THE OUTCOME
In order to understand the objectives of the campaign, the Kiloby Center staff completed an initial Landing Page Questionnaire provided by 2Surge. This comprehensive document covers the following 4 topics:
Goals of the Landing Page– The Kiloby Center wanted primarily to generate brand awareness and sales leads through use of the Landing Page design.
Answer: What's in it for me? – By offering a FREE 20 minute consultation with Scott Kiloby, the Landing Page was able to ENTICE prospects in to submitting their contact information.
Provide Supporting Landing Page Elements – This included Customer Testimonials, an Explainer Video, Social Media Proof & Engagement, as well as Photos of people in various scenarios at the center.
Prospect Nurturing & Follow-Up – By defining a specific and targeted series of automated email responses sent out to each prospect in defined intervals, the Kiloby Center was able to increase sales exponentially through use of the Landing Page.
The Kiloby Center Landing Page was so effective at driving brand awareness and introducing the new center to the many followers of Scott Kiloby's work that it eventually became the front page of a mini-website complete with blog posts and an About Us page. By increasing the amount of content behind the Landing Page, the overall effect was to keep prospects on the site LONGER, so they would have a better chance of understanding just how the center could help them overcome their addictions and depression.
Click To Visit the landing page - Addiction Treatment Landing Page Design
---